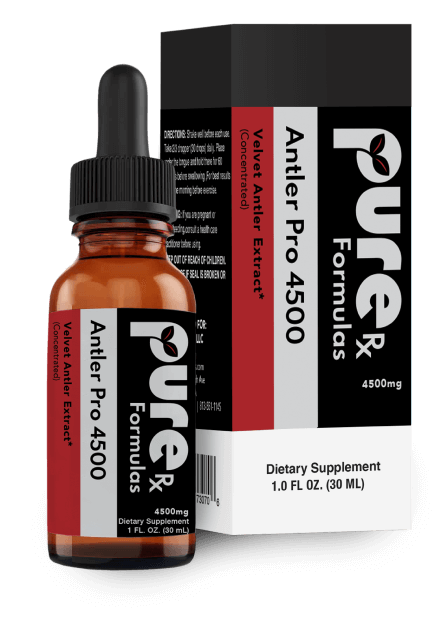 Antler Pro 4500
Advanced Adaptogenic Formula
This adaptogenic superfood supplement gives your body a wide variety of benefits to help you feel your best inside and out! PureRx Formulas Antler Pro 4500 was designed to give you whole-body nourishment that helps you enhance your athletic performance, immunity, metabolism, and much more! Our Antler Pro 4500 is your catalyst to complete your total health routine. **All velvet antler extract humanely & sustainably sourced**
Improved Immune Support
Maintain Bone Density
Joint/Connective Tissue Support
Improved Hair/Skin/Nails
Increased Energy Levels
Enhanced Stamina and Endurance
Promotes Fat Loss
Stimulates Muscle Growth
Enhanced Libido/Sexual Function
Supplement facts
Suggested use
Reviews (0)
Velvet Antler Extract
This amazing extract has been a prized superfood used in ancient Chinese medicine for over 2,000 years for a reason- this extract is a multifaceted approach to total wellness for your body. PureRx Formulas VAE (velvet antler extract) is loaded with precious insulin-like growth factors (IGF-1 & 2) that work within our bodies to help improve a myriad of functions- from helping to increase muscle mass, to enhancing our energy and libido. Velvet antler extract is a buffet of nutrition backed by years of research to help your health go from good to great!
Tribulus
This spine-covered plant has been used for thousands of years in Traditional Chinese Medicine and Indian Ayurvedic medicine. It is known for its abilities to enhance libido, energy, athletic performance. It is generally taken as an overall wellness supplement.
2/3 of a dropper, under the tongue, once daily before exercise.
WARNING: If you are pregnant or nursing, consult your health care practitioner before taking this or any herbal product.
*These statements have not been evaluated by the Food and Drug Administration. This product is not intended to diagnose, treat, cure, or prevent any disease.
Boost your health
✓ 100% Natural ✓ Ethically Sourced ✓ Most Potent Formulas
Just fill up the form and our nutrition specialists will contact you. Don't miss the opportunity to get recommendations for free!