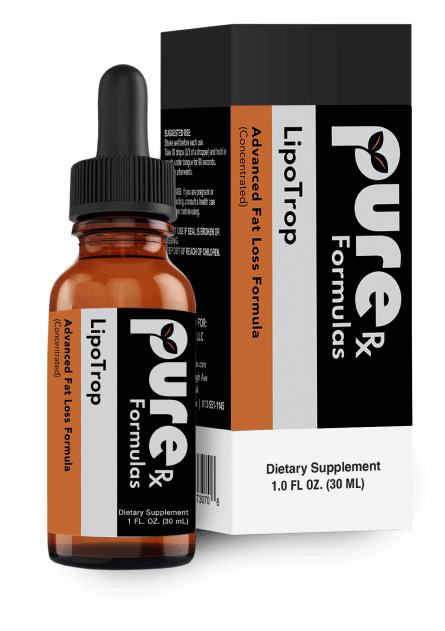 Lipotrop
Fat Loss Formula
PureRX Formulas LipoTrop takes a different approach to healthy weight loss. Using our exclusive liver-optimizing formula, LipoTrop improves metabolic function in the liver, allowing it to properly metabolize protein and carbohydrates while burning fat for all-day energy.
Great Alternative or Enhancer for Lipotropic Injections
Promotes Fat Loss
Improves Metabolism Support
Enhances Energy Levels
Promotes Detoxification of Fats and Bile from Liver
Aids in Detoxifying Body of Heavy Metals and Toxic By-Products from High-Protein Diets
Helps Stop Muscle Breakdown During Calorie Restriction or Increased Cardiovascular Activities
Supplement facts
Suggested use
Reviews (0)
Vitamin B6 (Pyridoxine)
Vitamin B6 is a water-soluble vitamin vital to your body for proper protein, fat, and carbohydrate metabolism. We do not produce B6 naturally, so you must obtain it from supplemental sources or foods.
Vitamin B12 (Methylcobalamin)
This essential vitamin is critical to your good health. B12 is one of the B vitamins that help convert foods into glucose for energy. Vitamin B12 is also vital to the health of your red blood cells, bone marrow, nervous system, GI, and respiratory tracts.
Guarana Seed Extract
This Brazilian plant is often used for stimulating weight loss, enhance athletic performance, and to assist in reducing mental and physical fatigue. Guarana contains caffeine, helping it to work by stimulating the central nervous system, heart, and muscles in our bodies.
Velvet Antler Extract
This superfood has been used in ancient, Traditional Chinese Medicine for over 2,000 years. Velvet antler extract is known for its ability to increase energy, boost immunity, aid in stress reduction. Research shows that velvet antler extract also possesses anti-bacterial, anti-viral, antioxidant, anti-inflammatory, and analgesic properties within our bodies.
Lipotropics
The four major ingredients found in most lipotropic supplements are methionine, inositol, choline, and betaine. These compounds were designed to work in the liver to help prevent an abundant buildup of fats being stored in our liver, while synergistically working in our bodies to help increase energy and ensure proper liver function.
2/3 of a dropper, under the tongue, once daily.
Warning: If you are pregnant or nursing, consult your health care practitioner before taking this or any herbal product.
*These statements have not been evaluated by the Food and Drug Administration. This product is not intended to diagnose, treat, cure or prevent any disease.
Boost your health
✓ 100% Natural ✓ Ethically Sourced ✓ Most Potent Formulas
Just fill up the form and our nutrition specialists will contact you. Don't miss the opportunity to get recommendations for free!