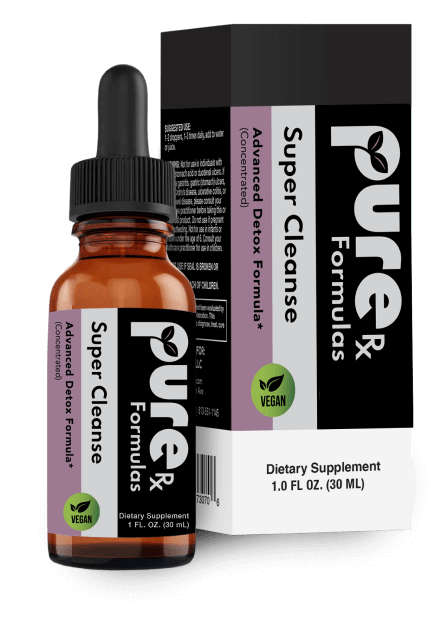 Super Cleanse
Body Detoxification
PureRx Formulas Super Cleanse is a distinct proprietary blend of bitter herbs to stimulate better digestion. Our digestive process is the key to proper nutrient absorption, sluggish digestion that is interrupted by bouts of bothersome symptoms such as indigestion, bloating, and the sensation of being overfull can negatively impact proper digestion and breakdown of nutrient delivery to our bodies. Our all-natural liquid tincture is free from sugar, caffeine, and anything artificial. We only use organic, fair-trade certified herbs to help relieve the unwanted symptoms of slow digestion, helping your body achieve the true benefits of proper digestion.
Stimulates Proper Digestion
Helps to Increase Digestive Juices in the Body
Aids in Relieving Intestinal Spasms
Assists the Body as a Natural Diuretic
Helps to Nourish Kidneys and Gallbladder
Enhances tone of Urinary Tract
Supports the Body as an Anti-Inflammatory, Antiseptic, and Antimicrobial Blend
Supplement facts
Suggested use
Reviews (0)
Dandelion Root
This root is known for offering a myriad of health benefits, such as being high in fiber, helping to promote better digestion, helps fight bacteria, is a rich source of antioxidants, and helps reduce LDL cholesterol.
Gentian Root
This bitter herb has been used for over 2,000 years in Traditional Chinese Medicine and Ayurvedic medicine as a digestive aid and to stimulate liver health. Gentian root is still used today to help with symptoms of indigestion, such as heartburn, nausea, bloating, and even loss of appetite.
Pellitory
This plant is often used to help relieve the effects of dyspepsia, or indigestion by promoting the release of digestive juices. Our digestive juices help with the breakdown of food into different nutrients for our bodies.
Ginger Root
This root contains gingerol, which displays powerful medicinal properties for our bodies, such as helping to treat nausea, chronic indigestion, functional dyspepsia, and may even help fight infections.
Fennel Seed
This sweet seed has been used in Western culture for its ability to help improve digestion, relaxing muscles in the intestines, and soothing our stomach muscles to help relieve bloating and gassiness from acid reflux.
Couch Grass Root
This root often thought to be an invasive weed may help relieve constipation, bladder inflammation, and kidney stones, as it contains chemicals in the roots that may reduce swelling.
Uva Ursi
This plant is known for its ability to reduce bacteria, lower inflammation, soothe an upset stomach, detoxify the body, and may help to fight infection, due to its astringent qualities.
Pipsissewa
This bitter herb has been used to help alleviate the symptoms of poor digestion and lack of appetite, and to help rid our bodies of fluid and waste by stimulating urinary flow and aiding proper liver function.
Dandelion Leaf
Used in Chinese and folk medicine for thousands of years, this plant supports bile secretion, healthy digestion, and helps alleviate constipation. It also may act as a diuretic, reduce swelling, and possesses antimicrobial, antibacterial, anti-inflammatory, and antioxidant properties.
Corn Silk
This silky plant fiber contains antioxidants, helps reduce inflammation, and has been used in Traditional Chinese and Native American medicine to aid in relieving prostate and urinary tract issues.
Wormwood
This European herb has been used for millennia to help relieve a myriad of ailments, such as reducing inflammation, aiding in pain management, improving digestive health, and even helping to rid our bodies of parasites, like tapeworms and pinworm.
Bitter Orange Peel Extract
This extract may be used orally and topically to help treat multiple health concerns, such as helping to relieve constipation, supporting weight loss, helping to treat fungal infections, and aid in wound healing when applied topically.
1-2 droppers, 1-2 times daily, add to water or juice.
WARNING: Not for use in individuals with excess stomach acid ulcers. If you have gastritis, gastric (stomach) ulcers, GERD, Crohn's disease, ulcerative colitis, or other bowel disease, please consult your health care practitioner before taking this or any herbal product. Do not use if pregnant or breastfeeding. Not for use in infants or children under the age of 6. Consult your healthcare practitioner for use in children.
*These statements have not been evaluated by the Food and Drug Administration. This product is not intended to diagnose, treat, cure or prevent any disease.
Boost your health
✓ 100% Natural ✓ Ethically Sourced ✓ Most Potent Formulas
Just fill up the form and our nutrition specialists will contact you. Don't miss the opportunity to get recommendations for free!