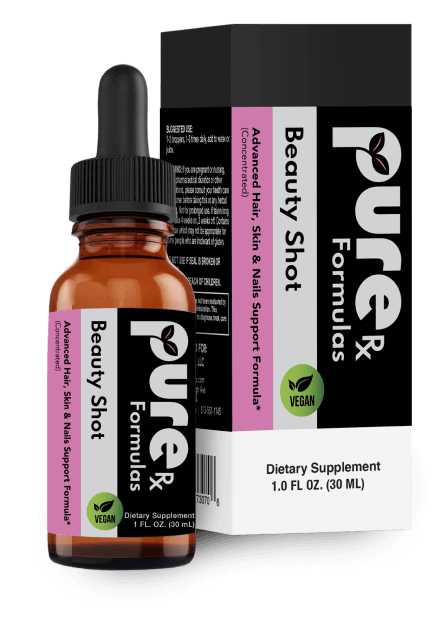 Beauty Shot
Hair, Skin & Nails Formula
Our Beauty Shot formula uses a signature blend of all-natural ingredients to boost the health and appearance of your hair, skin, and nails. Beauty Shot uses targeted ingredients to assist with increasing hair growth, supporting skin resilience and strengthening nails, and helping to promote the collagen formation that is vital to keeping our skin plump and glowing.
Promotes Skin Elasticity
Helps Reduce Hair Shedding
Supports Existing Hair Growth Cycles
Assists with Scalp Health
May Act as a Blood Purifier
Supplement facts
Suggested use
Reviews (0)
Nettles
A powerful anti-inflammatory, this plant contains high levels of provitamin A, vitamin B1, vitamin K, and silica. Used for centuries for its unique mineral content that may help promote healthier, more resilient hair, skin, and nails.
Red Clover (Trifolium Prataense)
This plant is known for its ability to calm skin inflammations like psoriasis and eczema. Red Clover also contains estrogen-like compounds, called isoflavones, often used to assist with osteoporosis and menopause symptoms.
Burdock Root
This root has been used for centuries to help with skin conditions like acne, psoriasis, and eczema. Newer research shows that this root contains powerful antioxidants, such as quercetin, luteolin, and phenolic acids that may help reduce inflammation in our bodies. Burdock root is also known for its blood purifying abilities; helping to remove toxins from our blood.
Oat straw (Avena sativa)
This mineral-rich plant contains iron, manganese, zinc, calcium, and silica. It's known for its anti-inflammatory properties and may also support skin and bone health. Recent research finds that oat straw may also help relieve stress and lower anxiety levels.
Horsetail
Used since ancient Greek times, this fern-like plant contains high amounts of silica and selenium, which can help promote healthy, strong, bones, skin, hair, and nails.
Rosemary Leaf
This culinary herb is rich in iron, calcium, and vitamins A, B6, and C. The oil of this precious herb is known to help stimulate hair growth and boost scalp health. It contains a high number of antioxidants and anti-inflammatory compounds, which may help to boost the immune system.
1-2 droppers, 1-3 times daily, under your tongue or add to water or juice.
WARNING: If you are pregnant or nursing, taking pharmaceutical diuretics or other medications, please consult your health care practitioner before taking this or any herbal product. Not for prolonged use. If taken long term, take 4 weeks on, 2 weeks off. Contains oat straw which may not be appropriate for some people who are intolerant of gluten.
*These statements have not been evaluated by the Food and Drug Administration. This product is not intended to diagnose, treat, cure or prevent any disease.
Boost your health
✓ 100% Natural ✓ Ethically Sourced ✓ Most Potent Formulas
Just fill up the form and our nutrition specialists will contact you. Don't miss the opportunity to get recommendations for free!