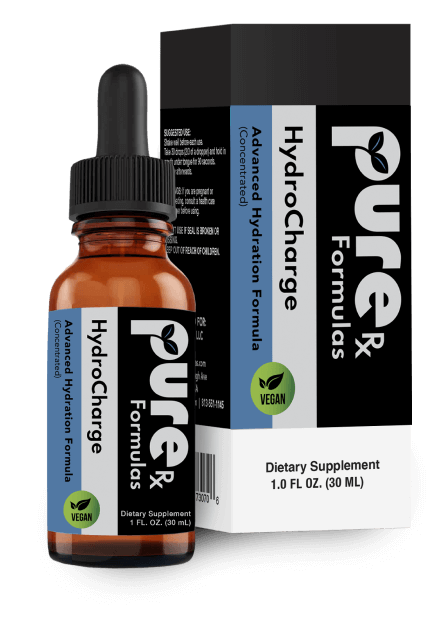 HydroCharge
Super Hydration Formula
PureRx Formulas HydroCharge is a revolutionary alkalizing, chelating, and remineralizing water additive. This multivitamin and mineral additive enhances absorption as it provides fulvic and humic acids, electrolytes, amino acids, B vitamins, over 74 colloidal ionic minerals, and an array of unique enzymes and polysaccharides for your body. Rehydrate and revitalize your body, so you can power through your day!
Supports Increased Hydration
Helps Improve Absorption of Supplements and Vitamins
Promotes Body Detoxification
Stimulates Increased Energy Levels
Bolsters Additional Electrolytes without Sugar, Flavoring, or Artificial Sweeteners
Aids in Providing Natural Hangover Support
Assists the Body as a Natural Pre-Workout Support
Supplement facts
Suggested use
Reviews (0)
Organic Aloe Leaf
This succulent plant contains multiple vitamins, minerals, amino acids, enzymes, and saponins; it's also known for possessing multiple health benefits, such as having antioxidant, anti-inflammatory, and antimicrobial properties which may produce an immunomodulatory effect. Aloe also may help produce elastin and collagen to help maintain skin elasticity and stay less wrinkled.
Lycium Barbarum (Goji Berries)
This superfood contains high levels of antioxidants that may help to boost our immune system by helping to protect our bodies from free radical damage. Goji berries also help boost DNA synthesis, giving us multiple anti-aging benefits. These magical berries may boost our energy levels, our exercise performance, and even improve the quality of our sleep.
Shilajit
High concentrations of fulvic and humic acids, this sticky plant matter is known to act as a carrier molecule to help transport nutrients to deep tissues while removing toxins. The bioactive compounds in Shilajit may help to amplify the bioavailability of vitamins and minerals to our bodies. This amazing compound may also help boost brain function, reduce free radicals and cellular damage.
For best results, add 2/3 of a dropper to a gallon of water, or 2 drops per 8 or 2 drops per 8 oz. of water.
WARNING: If you are pregnant or nursing, consult your health care practitioner before taking this or any herbal product.
*These statements have not been evaluated by the Food and Drug Administration. This product is not intended to diagnose, treat, cure or prevent any disease.
Boost your health
✓ 100% Natural ✓ Ethically Sourced ✓ Most Potent Formulas
Just fill up the form and our nutrition specialists will contact you. Don't miss the opportunity to get recommendations for free!