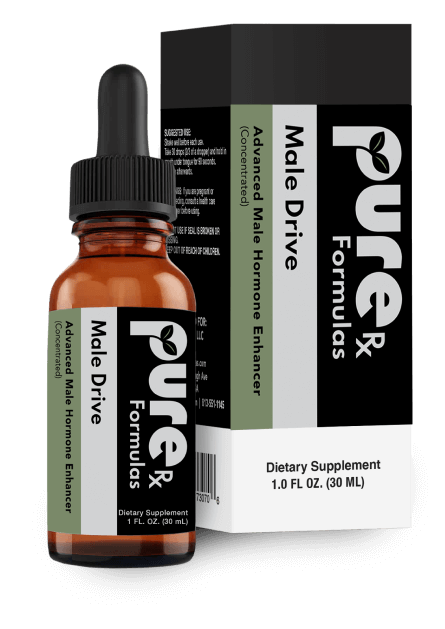 Male Drive
Male Hormone Enhancer
PureRx Formulas Male Drive contains herbal blend of ingredients that have scientifically demonstrated to offer men balanced hormonal support. Our Male Drive formula uses high-quality, all-natural ingredients to harmoniously balance male hormones, help improve libido, and allow our bodies to recover from physical and mental stress. Help your body stay in balance with our nutrient-packed formula so you can feel your best all day, every day.
Enhances Absorption of Hormones and Growth Factors
Promotes Production of Testosterone-Like Effects
Assists in Greatly Improving Muscle-Building Abilities
Boosts Immune Function
Aids in Mood Support
Supports Increased Energy Levels
Fosters Youthful Aging
Supplement facts
Suggested use
Reviews (0)
Mucuna Pruriens
This magical plant boosts dopamine levels within our bodies to help us relax and feel good. Mucuna Pruriens may help us improve the quality of our sleep.
Tribulus
This spine-covered plant has been used for thousands of years in Traditional Chinese Medicine and Indian Ayurvedic medicine. It is known for its abilities to enhance libido, energy, athletic performance. It is generally taken as an overall wellness supplement.
Lycium Barbarum (Goji Berries)
This superfood contains high levels of antioxidants that may help to boost our immune system by helping to protect our bodies from free radical damage. Goji berries also help boost DNA synthesis, giving us multiple anti-aging benefits. These magical berries may boost our energy levels, our exercise performance, and even improve the quality of our sleep.
Nettles
A powerful anti-inflammatory, this plant contains high levels of provitamin A, vitamin B1, vitamin K, and silica. Used for centuries for its unique mineral content that may help promote healthier, more resilient hair, skin, and nails.
Velvet Antler Extract
This superfood has been used in ancient, Traditional Chinese Medicine for over 2,000 years. Velvet antler extract is known for its ability to increase energy, boost immunity, aid in stress reduction. Research shows that velvet antler extract also possesses anti-bacterial, anti-viral, antioxidant, anti-inflammatory, and analgesic properties within our bodies.
Organic Aloe Leaf
This succulent plant contains multiple vitamins, minerals, amino acids, enzymes, and saponins; it's also known for possessing multiple health benefits, such as having antioxidant, anti-inflammatory, and antimicrobial properties which may produce an immunomodulatory effect. Aloe also may help produce elastin and collagen to help maintain skin elasticity and stay less wrinkled.
2/3 of a dropper, under the tongue: administer on an empty stomach for best results.
WARNING: If you are pregnant or nursing, consult your health care practitioner before taking this or any herbal product.
*These statements have not been evaluated by the Food and Drug Administration. This product is not intended to diagnose, treat, cure or prevent any disease.
Boost your health
✓ 100% Natural ✓ Ethically Sourced ✓ Most Potent Formulas
Just fill up the form and our nutrition specialists will contact you. Don't miss the opportunity to get recommendations for free!