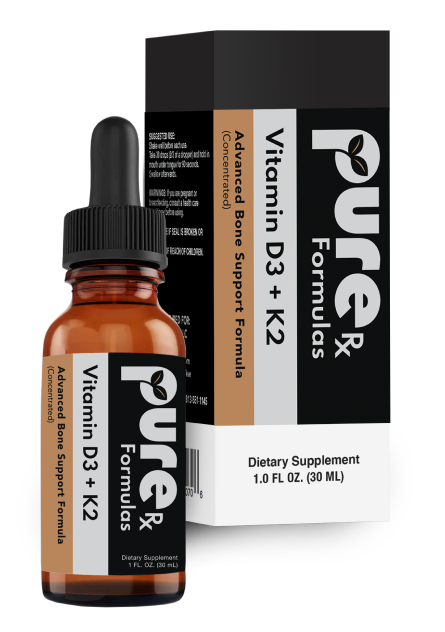 Vitamin D3+K2
Bone Support Formula
PureRx Formulas Vitamin D3 + K2 complex combines two fat-soluble vitamins critical to optimizing your bone and heart health. This immune-boosting duo also helps to reduce inflammation, strengthen muscle tone, and help our bodies to properly absorb and utilize calcium to keep our bones strong and healthy. New research shows that most Americans are deficient in vitamin D, making our D3 + K2 formula the perfect addition to your daily supplement routine.
Fosters Bone Strength
Supports Cardiovascular Health
Assists with Calcium Absorption and Utilization
Boosts Immune Function
Aids in Muscle Tone Quality
Promotes Brain and Nervous System Health
Supplement facts
Suggested use
Reviews (0)
Vitamin D3
Vitamin D is most known for the role it plays in our bone health, but it also has a significant role in other areas of our health as well, such as boosting our immunity, helping to improve muscle strength, assisting with calcium absorption, improving our mood, lowering blood pressure, and even assisting with healthy weight management.
Vitamin K2
Often difficult to source proper levels of this essential vitamin, supplementation is usually required to achieve the necessary levels of vitamin K2 to reap its benefits, such as helping to protect heart health, bone density, and even helping to regulate insulin sensitivity. Vitamin K2 works best when paired alongside vitamin D, as the two work synergistically within our bodies to help promote a healthy heart and strong, resilient bones.
Organic Aloe Leaf
This succulent plant contains multiple vitamins, minerals, amino acids, enzymes, and saponins; it's also known for possessing multiple health benefits, such as having antioxidant, anti-inflammatory, and antimicrobial properties which may produce an immunomodulatory effect. Aloe also may help produce elastin and collagen to help maintain skin elasticity and stay less wrinkled.
Lycium Barbarum (Goji Berries)
This superfood contains high levels of antioxidants that may help to boost our immune system by helping to protect our bodies from free radical damage. Goji berries also help boost DNA synthesis, giving us multiple anti-aging benefits. These magical berries may boost our energy levels, our exercise performance, and even improve the quality of our sleep.
Shilajit
High concentrations of fulvic and humic acids, this sticky plant matter is known to act as a carrier molecule to help transport nutrients to deep tissues while removing toxins. The bioactive compounds in Shilajit may help to amplify the bioavailability of vitamins and minerals to our bodies. This amazing compound may also help boost brain function, reduce free radicals and cellular damage.
HYDROCELL™ Delivery System
Our exclusive all-natural water additive gives you an abundance of critical nutrients and plant extracts that work to maximize absorption while promoting balanced acidity levels within our bodies. HYDROCELL also enhances the efficacy of every nutrient you consume, so you can experience optimal results from every single supplement formula.
2 drops, under the tongue, use daily for best results.
WARNING: If you are pregnant or nursing, consult your health care practitioner before taking this or any herbal product.
*These statements have not been evaluated by the Food and Drug Administration. This product is not intended to diagnose, treat, cure or prevent any disease.
*To see the science behind our brand, CLICK HERE to view our references*
Boost your health
✓ 100% Natural ✓ Ethically Sourced ✓ Most Potent Formulas
Just fill up the form and our nutrition specialists will contact you. Don't miss the opportunity to get recommendations for free!